A beautiful speech as part of Big Ideas series. Equally heart wrenching and inspiring. Certainly worth watching.
In October 2010 I spent 18 days travelling on a small research sailing vessel through the High Arctic with 18 other international artists. It was an incredible adventure both as a human being and as an artist. Being immersed in nature for so long, without contact to "city life" (no internet or phone or signs of civilisation apart from the 18 artists and 5 crew on the boat),  was such a privilege, and yet I sensed it was something we should all be doing much more of in this crazy, fast-paced world. The way this experience allowed me to slow down and take time to observe and reflect on myself, my world, and my place in it, was such a rich and fulfilling way to make work as an artist. There is nothing more humbling as a human being than to be surrounded in 360 degrees by such an enormous and immense landscape that oozes both beauty and danger simultaneously. I have never felt so small.
The intention of the project was to function as "an incubator for thought and experimentation for artists and innovators who seek out and foster areas of collaboration to engage in central issues of our time" (www.thearcticcircle.org). 18 days flew by with observations, mini creative experiments, and playful interactions with others on board and on land. No work was completed by the time  I disembarked but I have, however, collected hours and hours and gigabites and gigabites of documentation in audio, video, still images, and text of this arctic wonderland. I'm working my way through them with the creation of some new work during 2011.
I'm excitedly awaiting my next big adventure….a voyage to the Arctic Circle.

The Arctic Circle Project is an artist and scientist-led expedition to the High Arctic, from October 7 – October 24 2010.  18 international artists/ scientists have been selected for this 18 day voyage described as 'an incubator for thought and experimentation for artists and innovators who seek out and foster areas of collaboration to engage in the central issues of our time'.  Check out www.thearcticcircle.org for more information on this superb initiative.
Super, super excited by this experience and how it intersects with my work and passions.
Stay tuned for more….

Currently working on a full length solo work Breakings. Details of the production below….
A sharp, confronting and reflective look at today's mediated world.
Amongst a pile of out-of-tune television sets, walls converge and a body is caught between hope and fear. Breakings questions our relationship with the media and how it influences our perception of the world.
Hailed by the West Australian as 'one of Perth's most promising emerging choreographers', Aimee Smith is known for her cutting edge political work.
Breakings is an intense intersection between body, sound, screen, and movement.
After the performance join Aimee and guests from the fields of media, performance and cultural theory, as they unpack her work.
Choreographer/ Performer Aimee Smith Sound Ben Taaffe Audio Visual Jerrem Lynch Designer Fiona Bruce Lighting & production manager Mike Nanning
Presented by STRUT Dance in association with PICA
Co-produced by Performing Lines WA & STRUT Dance
Details
Performances
8pm Thu 8 Apr
8pm Fri 9 Apr
8pm Sat 10 Apr
6pm Sun 11 Apr
Artist Talk
Post-performance forum with special guests after each show (Free)
Perth Institute of Contemporary Arts, Performance Space
Duration 60min + forum
Tickets
Standard $27
Art Addicts $22
Strut Members $22
Concession $20
Bookings
9228 6300 or Online
Great article. Have a read.
A Proposed Job Swap To Save American Capitalism
By Liz Lerman
Do Wall Street executives deserve big bonuses during hard times? Does increased arts funding have a place in an economic stimulus package? I'll leave it to others to debate these controversies. Meanwhile I'd like to make a modest proposal to solve some of our economic problems: Let's do a job swap. We'll put the corporate executives to work as artists while the artists run Wall Street.
Since their first task will be getting economic markets back on solid footing, I'm convinced that artists have the perfect resumès for their new jobs. Here's why:
1. Artists work ridiculous hours for no pay. And most of the artists I know will keep working until they get the job done right.
2. Artists do not need fancy offices. In fact, they usually work in the worst part of town … until that part of town becomes fancy because the artists are there. Then they have to move because they haven't paid themselves enough to afford the new rent.
3. Artists throw everything they earn back into the store – which is why they haven't paid themselves enough. (I will admit that there was one time I didn't do this. When I was awarded a MacArthur Fellowship back in 2002, I decided to open my first retirement account. I put the money in "very safe" stock market investments. I would have been better off putting it into my next dance.)
4. Artists do not need financial incentives. Artists do the work they do because they love it. Or because they believe in it. Or because they think it is a social necessity for our communities. Or because they know when people make poems or pictures or dances, our best human spirits emerge.
5. Artists do not expect to get anything if they do a bad job. Except maybe a bad review.
6. No artist gets a bonus because there is never enough money at the end of a project.
7. Artists keep very tight budgets. They know how to spend the same penny over and over (not by cooking the books, but by pinching, recycling, borrowing, bartering and plowing their economy-airline frequent-flyer miles back into the next project.)
8. Artists have a rightful reputation for fresh ideas combined with a capacity for self-evaluation that borders on recrimination.
9. Artists play well with others, having evolved highly efficient collaborative techniques in the service of their visions. But they are also very independent, delivering great things even when they work alone.
Meanwhile, in their new capacities as painters, poets, cellists and choreographers, our Wall Street executives might be experiencing a combination of culture shock therapy and ethical boot camp. Artistic practice may force them to discover what they really believe in, because the combination of introspection, discipline and craft that fuels an artist's work (oh, and it is work) puts people in a very demanding state of truth. Doing what artists do every day, some might find themselves in overcrowded classrooms, excited to share their practices to help young people discover that they actually can learn. Others might be sparked to help communities solve problems by bridging differences through the unique power of their art forms. Those who have been lucky enough to get funded for their work will likely be staying up nights, filling out multiple forms to prove the exact use of the money they have been granted. All will find their moral compasses tested as they balance the demanding loyalties of pursuing personal vision and creating value for an audience.
The job swap I propose might have a final payoff: With artists in charge of Wall Street, you might even see people donate to the cause because artists know how to inspire others to participate together, to work for something that matters, to build on the intangibles of the human experience, to make a difference.
Imagine that kind of Wall Street.
ACCIDENTAL MONSTERS OF MEANING Premiere, 31 JULY – 2 AUGUST 2009

Accidental Monsters of Meaning, the latest project of Aimee's, examines the twists and turns of consumer culture – a world where consumption is destruction, where the consumer becomes the consumed, and where survival is not a given. Set in the ambiguous and sterile space of a museum – zoo – viewing gallery – shopping mall world, the human being becomes a product of our times, the consumer becomes the product for consumption, and we are forced to face the realities of survival and extinction.
Accidental Monsters of Meaning is a performance installation, made in collaboration with sound designer Ben Taaffe, performers Deb Robertson, Michelle Anderson, Rhiannon Newton, and with set construction by Ainsley Canning. The work runs from Friday 31st July through to Sunday 2nd August at Spectrum Project Space, with performances at 8pm and, for something a little bit different, a late night show at 10pm on the Saturday.
Come experience the oddity of viewing your own species behind glass doors.
Season:
Friday 31st July         8pm
Saturday 1st August  8pm / 10pm
Sunday 2nd  August  8pm
Entry $10 / $5 conc.
Venue:
Spectrum Project Space
221 Beaufort St. Northbridge WA
Tickets:
Entry $10 / $5 conc.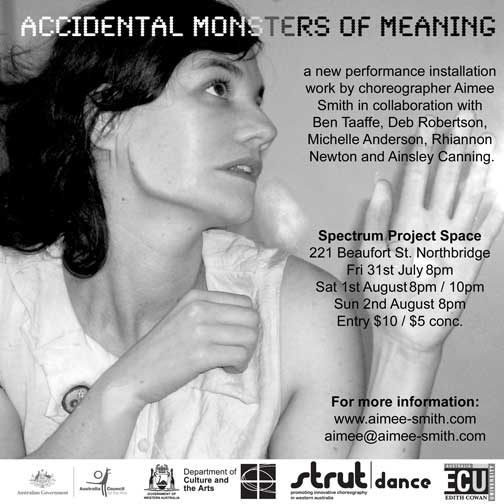 I've just returned from my latest dance adventures in the regional WA town of Esperance where the community, several key organisers, 4 talented and generous Perth dance artists, and I worked together to create TranscenDANCE. Over the summer of 2009 the community of Esperance were given the opportunity to participate in dance workshops, of various styles, and work together towards a final evening of performance as part of Esperance's biannual Festival of the Wind. Based around the wetlands environment, the project also provided an opportunity for the community to explore, rediscover, celebrate and voice their concerns and passions for this amazing local ecosystem. With over 100 participants and performers in the final TranscenDANCE production, it was an immense but hugely rewarding project to direct and be involved in. I think we are all still buzzing from the experience. I know I certainly am. It is so awesome to see communities and people come alive and re-connect through the medium of dance.  May the infection of grooving bodies continue to spread!
SIGNING OFF
It is time to leave India after 3 months of adventures – in creativity, in culture, in living, and in ideas of hope and fear. I am without words here as I digest all that has been, and how it will affect all that will come.
Thankyou to everyone that made this experience possible, and so rich.




This was a Australia-India Residency project supported by Australia India Council and the Western Australian Department of Culture and the Arts.
INVISIBLE WASTE
I have been battling with the idea of waste.
Here in India waste is very visible in public spaces. There are very, very, very few bins anywhere (sometimes I go days at a time without seeing a single one) and most people will throw and leave their rubbish on the side of the road or wherever they happen to be. There is nowhere else to put it.
In Australia I never see waste. We put it in a bin that gets emptied and then taken away by some stranger in a truck, usually during the dark hours of the morning when we are asleep, to a place I never see.
I'm not sure which is better, or worse.
At least in India I see the waste that I/ we are creating. I can acknowledge and recognise the effects and repercussions of my/ our way of life and my/ our acts of consumption. I can monitor how much waste is being generated and used. But when it gets put in a big box that some stranger takes away to a place, I don't know where, I don't have to think about it. I don't have to acknowledge that it's being created, or in what quantity. I am so far removed from the reality of the situation and it becomes so easy to deny it's existence.
The Search Continues
My work with the company here is starting to find its form. The work looks at ideas of fear and hope, through the structure of stories, both individual and shared. It looks at how stories shape us, how we are the stories, or we become the stories, we tell ourselves. Within this investigation I wanted to find and celebrate the hope, along with the fear, but have found fear so much more dominant, so much easier to present. Here I am, critiquing the domination of fear-filled stories in our lives, particularly perpetuated by the media, and yet here I am telling more of them. So my challenge at the moment is to find the way in to hope. To find the segue where fear melts away and hope collects.
This leads me to the question I often ask….why is it so hard to make celebratory, hopeful work, particularly when it is concept driven. I have seen beautiful examples of celebratory dance works where and when the focus is on the craft itself, the joy of movement and not primarily driven by concepts. But so much of the conceptual based work I see carries a scepticism, it investigates these ideas through a sarcasm and/ or satire. This critical analysis of our world is incredibly important and potent, and it is often this kind of work that I most value and esteem, but my question is….where is the hope? Why is it so hard to represent hope or to celebrate through our art in our contemporary world? Are we so used to the rational way of thinking and existing that we expect all reputable analysis to be satirical and critical? Have we lost the ability or appreciation for aesthetics and analysis that is emotion-filled, that is dream-based, that is imagination-driven, that is positive and hope-filled?